RGK 20th Anniversary
Luci and Lynda Johnson reflect on the legacy of the RGK Center for Philanthropy and Community Service and how the Center aligns with their family's values. The RGK Center is proud to call the LBJ School of Public Affairs our home. 
Founders History
It has been an energizing two decades of building relationships with our community and growing as a Center.  Newer programs like CONNECT emphasize our commitment to serving nonprofits with an interest in evaluation and data.  With over 490 alumni to date, our Graduate Certificate in Nonprofit Studies provides academic expertise to UT students pursuing careers in this creative and innovative sector.   RGK Center faculty produce cutting-edge research in the diverse areas of the arts, philanthropy, data management, civic health, volunteerism, environmental and urban sustainability, and they continue to inspire the next generation of nonprofit and philanthropic leaders.   
As we reflect on the beginning of our Center 20 years ago, we are deeply thankful for those who made it possible, from our founding Director, Curtis W. Meadows Jr., to our Advisory Council members past and present, and to our generous funders. We celebrate you and thank you for your support. The RGK Center would also like to recognize and express appreciation for the guidance provided by Robert Payton, founding Executive Director of the Center on Philanthropy at Indiana University.
We invite you to reconnect with the RGK Center, to inspire our future, and to participate in our upcoming events featuring RGK Center faculty, alumni, current students, and community partners. Connect with us through this webpage and our social media to find upcoming opportunities to engage with the RGK community.
We are excited to celebrate 20 wonderful years with you all, and we look eagerly to the future. 
Series Event Recaps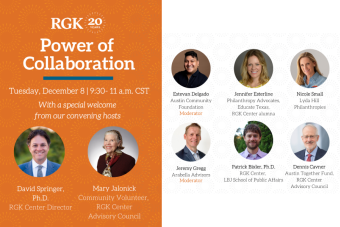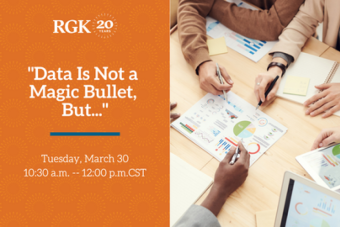 Special Thanks To:
| | | | | |
| --- | --- | --- | --- | --- |
| Anne Hodges Morgan | Fred Smith | Lindsey Harbison | Mike King |   |
| Admiral Bobby R. Inman | Greg Baldwin | Maggie McCarthy       | Paul W. Harris |   |
| Curtis W. Meadows, Jr., J.D.       | Greg Kozmetsky | Mary Jalonick | Peter Moore |   |
| Domingo Barrios | Ken Gladish | Maureen Hackett | Randa Safady |   |
| Dennis Cavner | Linda Perryman Evans       | Michael L. Meadows     | Valleau Wilkie Jr. |   |
|   |   |   |   |   |