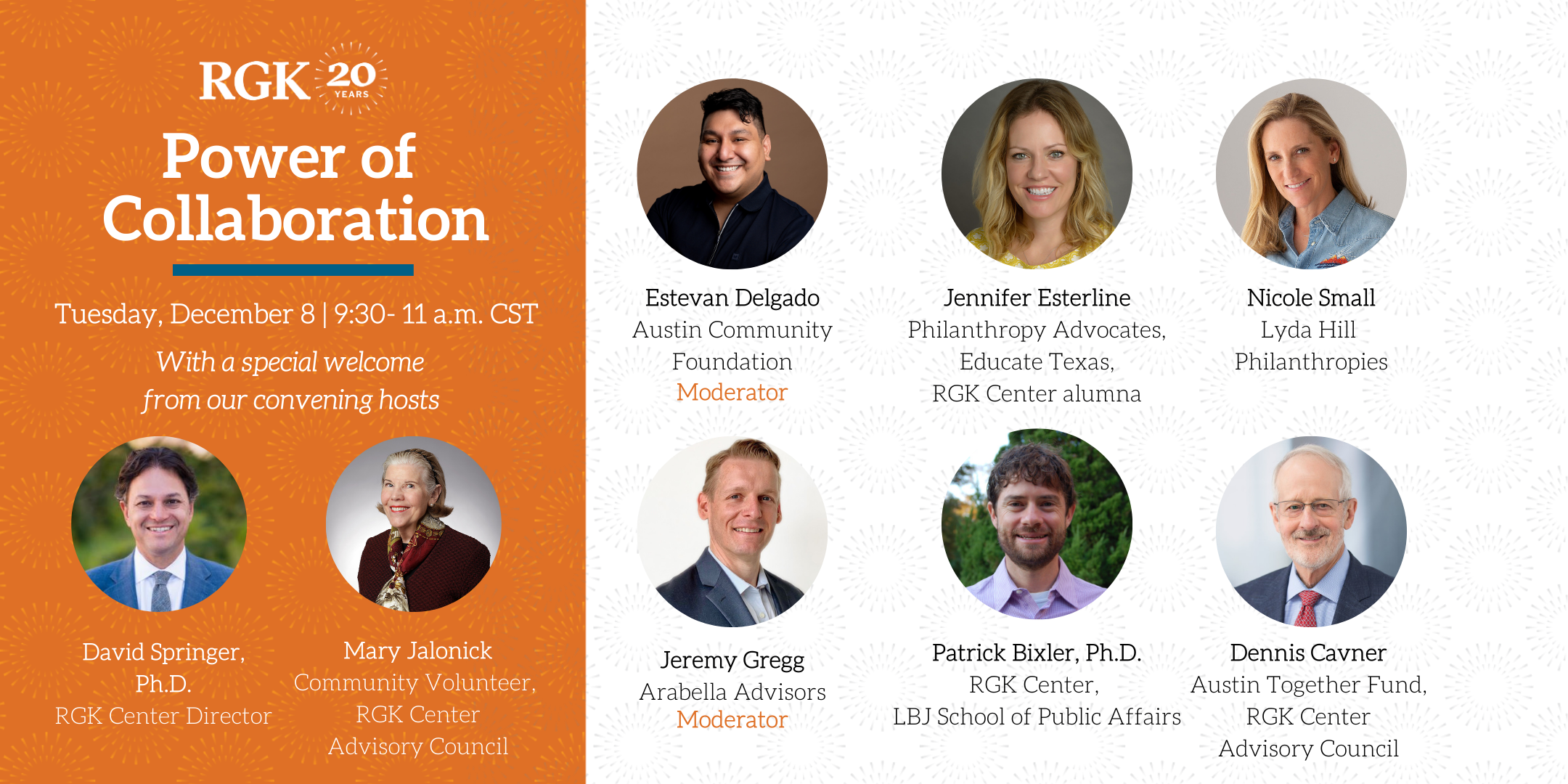 December 8th, 2020
In early December, the RGK Center hosted the panel discussion "The Power of Collaboration," the first of a series of programming in celebration of the Center's 20th Anniversary. We are honored that 36 members of the RGK community, many of whom are actively engaged in a donor collaborative, joined the live conversation. For those unable to attend, we hope you will enjoy the recording below, and we have compiled key takeaways from the discussion for your convenience.
"If you want to go fast, go alone. If you want to go far, go together." African Proverb  
The dual pandemics of COVID-19 and racism have highlighted the limitations of a solo, uncoordinated approach to enact systemic change. Amid this larger conversation about broadening the toolset of philanthropy, advocacy, and policy-making, moderators Estevan Delgado, program manager at the Hispanic Impact Fund, and Jeremy Gregg, managing director of Arabella Advisors, guided panelists and participants through a discussion about examples of and challenges to donor collaboratives. 
Each panelist brought their unique perspective on donor collaboratives. Nicole Small, CEO of Lyda Hill Philanthropies, emphasized how organizations must be flexible to successfully participate in a collaborative, drawing on Lyda's experience with the coordinated giving of North Texas Cares 2.0 and the pooled funding of the Better Together Fund. Curtis Meadows, event guest and founding director of the RGK Center, added that a collaborative cannot be forced to work, sharing an example of a failed collaborative during his time at the Ford Foundation. Dennis Cavner, co-founder of the Austin Together Fund, noted how the organizations that drive nonprofit collaborations must proactively change the "opportunity filter" to reverse screening out minority-led organizations, drawing on the Austin Togther Fund's work with the African American Leadership Institute. Jennifer Esterline, founder and director of Philanthropy Advocates, turned to her experience at the intersection of philanthropy and policy to explain the need for funders to work with policymakers around a shared focus to push advocacy work, observing that, compared to the public sector, nonprofit funding is only a drop in the bucket. And, Patrick Bixler, Assistant Professor at the RGK Center, discussed the literature gap in understanding the impact of collaboratives, which he explores in his research on network structures. 
Many panelists emphasized the important of funders engaging with and giving power to the community. "Those community members who are having to live through the current challenges of the time, day in and day out, are actually the experts of their own experience," Estevan Delgado said. Reflecting on how post-COVID philanthropy might best address these challenges, Nicole Small suggested that "we take what we've done during the pandemic and continue to move that forward, and shift the power...anybody who's an expert in an area should be able to have a seat at the table and have these conversations, if we really want to solve these problems." 
The discussion allowed the RGK Center to reflect on how we can best provide value to our network and the broader community. Center director and interim dean of the LBJ School David Springer pointed out the Center's unique position and opportunity to turn data into impact, a step often lacking among universities seeking to make an impact in their communities. Participants also suggested the RGK Center provide case studies on collaboratives that explore their real decisions and challenges, a valuable resource to those interested in starting or participating in a collaborative.  
"The intersection of policy and nonprofit work and philanthropy--it all came together when the RGK Center was formed, and it really helped me understand the role that nonprofits can play in policy," said Jennifer Esterline, who is an alum of the RGK Center's nonprofit studies portfolio program. 
We appreciate all members of the RGK community who took time from their day to participate in this discussion, and we'd like to extend a special thank you to our host, Mary Jalonick, our moderators, Estevan and Jeremy, and our panelists, Nicole, Dennis, Jennifer, and Patrick. In addition, the event would not have been possible without the direction and guidance of Erica Ekwurzel, RGK alumna and founder of CivicAIM nonprofit consulting, and the technological support of the Thompson Conference Center. 
For an example of how the RGK Center is involved in collaborative projects in the Austin area, download the report "Strategic Collaboration for Sector Sustainability: A Study of Community "Catalyst" Funds and Austin Area Collaboration" 
Guest practitioners at our first anniversary series event discuss why funder collaboratives get started, how they work, what these joint ventures offer to both donors and grantees, and how collaboratives can elevate community-centric practices in giving. Our guests will highlight first-hand experiences of leading collaboratives and exemplify the variety of forms and purposes of pooled funds aimed toward impact.
Hosts
Director

RGK Center for Philanthropy and Community Service

University Distinguished Teaching Professor

Community Volunteer

RGK Center advisory council member
Moderators
Program Manager

Hispanic Impact Fund Austin Community Foundation

Managing Director

Arabella Advisors