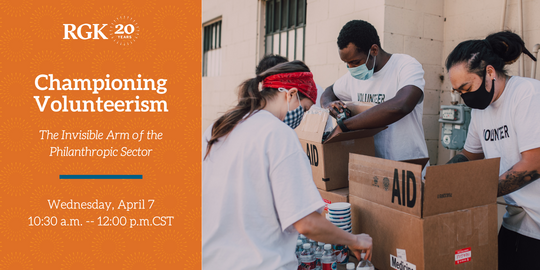 April 7th, 2021
As the third live program in celebration of the RGK Center's 20th Anniversary, Dr. Sarah Jane Rehnborg, expert in volunteerism and one of the Center's first faculty members, hosted a panel discussion in early April on "Championing Volunteerism: The Invisible Arm of the Philanthropic Center." For those unable to attend, we hope you will enjoy the recording below. Additionally, we have compiled key takeaways from the discussion for your convenience.  
Curtis Meadows, founding director of the RGK Center, opened the event by placing volunteerism within the context of the creation and growth of the RGK Center for Philanthropy and Community Service. Curtis emphasized how voluntary community action lies at the heart of the structure of the nonprofit sector. Dr. Rehnborg then highlighted the Center's contributions to the field as well as the challenges to volunteerism as an academic field of study. For the remainder of the session, the panelists shared their diverse perspectives on the changing field of volunteerism.  
For a detailed recap of the panel discussion and links to materials shared during the event, click here. 
"Big Ideas" on Volunteerism

Greg Baldwin, VolunteerMatch
"The Independent Sector has recently drafted an executive order that would create a new White House Office on Civil Society and the Nonprofit Sector . . . So I hope when the invite comes to show up at the White House Office on a Zoom call, that all of you will show up and be ready to speak up and speak loudly and make sure that the next generation of young people can benefit from all of the amazing work that volunteers do in their local communities." 
Jane Leighty Justis, The Leighty Foundation
"It's a good time for these partnerships to start happening and for us to make sure that as we rebuild, after COVID, the nonprofit sector as a whole, that we don't keep building the same houses on the same cliffs—So how do we take this opportunity to really think about how we rebuild the sector to be a stronger sector." 

Mike King, Volunteers of America
"I think this year, in particular the last twelve months, is even more critical than last year . . . The dilemma and polarity that all nonprofit leaders are going to face in this coming year is that balancing act between providing stability and at the same time capitalizing on the opportunity for innovation." 

Jerome Tennille, Marriott International
"I'm going to share a thought of optimism . . . I've seen people become much more open-minded to new ideas of change and systems and structures, and so to me, there's no time better than the present as we work to solve so many critical issues that volunteers are oftentimes at the forefront and often engaged to solve."

Noel Landuyt, Institute for Organizational Excellence
"This idea of being nimble . . . that's going to stay to some extent, so we need metrics and measurements and data to help us be more nimble and see how we move forward." 
In closing, Curtis Meadows recounted a 1995 quote from John Gardner, member of President Lyndon B. Johnson's cabinet: "A community lives in the minds of its members, in shared assumptions, beliefs, customs, ideas that give meaning, ideas that motivate. The civility that gives dignity to our common life is not instinctive, and it is not accidental. Decency is learned, civility is habit. Let's say it to everyone who will listen—Lend a hand, out of concern for your community, out of love for our country, out of the depths of whatever faith you hold—lend a hand."  
Please see here for a detailed recap of the panel discussion and resources shared by panelists and audience participants, including VolunteerMatch's recent report and The Leighty Foundation's and the RGK Center's guides for strategic volunteer engagement.  
Panelists
Principal Investigator for Index of Volunteer Engagement

President and Program Director, The Leighty Foundation

President and Chief Executive Officer, Volunteers of America

CVA, Manager, Social Impact & Volunteerism, Marriott International and Architecting Social Good

Ph.D., Director of the Institute for Organizational Excellence