Published:
August 18, 2020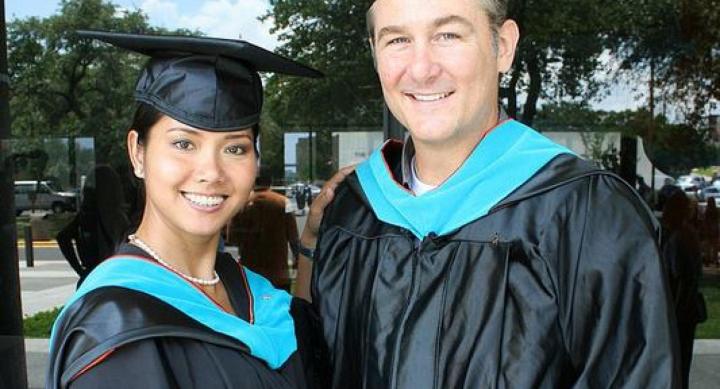 The views expressed herein are those of the author and should not be attributed to the IMF, its Executive Board, or its management. 
Wes and Savin Ven Johnson attended the LBJ School of Public Affairs and graduated from the MGPS program in 2012. "We were the weird couple who decided to go back to grad school together and were so excited," Savin said. "We sat in the front row, holding hands, raising our hands for everything." Wes completed his internship in Haiti through the Meadows Scholars program at the RGK Center. Wes is now a Senior Change Management Officer at International Monetary Fund (IMF) and Savin works at Federal Emergency Management Agency (FEMA) as the deputy director of the Office of Resilience Integration and Coordination.
The COVID-19 crisis is impacting the world in two major ways, Wes explains. "There's the 'disease itself, which causes illness, hospitalizations and death. In this part, the focus is on the response, including testing people for infection and vaccine development. The other impact is the global economic fallout from the disease, including people out of work and businesses closed. And both disproportionately impact the world's vulnerable populations." he said. Wes works with the IMF to address the economic impact of the pandemic, while Savin works in the response piece of this crisis in her role with FEMA.
"At FEMA you have your regular, day-to-day work, it's what we sometimes call 'blue sky time,' when there's not a disaster," Savin said. "And then we have what we call 'black sky time,' referring to when there's a major disaster, I take on an emergency management role and deploy to the disaster." During this time her regular office duties are either transferred to other personnel or paused while she is sent out to respond to the immediate crisis.
Savin Ven Johnson (MGPS class of 2012) currently works at FEMA as as the deputy director of the Office of Resilience Integration and Coordination.
The President's declaration of a national emergency on March 13, 2020 began FEMA support of the COVID-19 pandemic response, and emergency managers like Savin were deployed to serve in response operations. For over two months, Savin served in the joint FEMA and U.S. Department of Health and Human Services (HHS) Laboratory Diagnostics Task Force, one of eight COVID-19 focused task forces under the National Response Coordination Center (NRCC). The NRCC is a multi-agency center based in Washington DC that coordinates the overall federal support for major incidents and emergencies. The Laboratory Diagnostics task force focuses on providing the laboratories across the nation the supplies needed to conduct COVID-19 testing, which includes sample collection supplies, reagents, and equipment and materials used by public and private laboratories for molecular testing. Other NRCC task forces focused on the resilience of hospitals and healthcare systems and stabilization of the medical equipment supply chain, helping obtain PPE, masks, thermometers, and ventilators to areas that needed them, as well as procuring scarce medical supplies from outside the U.S.
While deployed, Savin was the task force operations lead, responsible for the management of all operations directly applicable to the primary mission of the task force within the NRCC, including personnel management, resource tracking, and communications and reporting to White House, FEMA, and HHS leadership and other stakeholders. "We were constantly getting calls and emails from Congress, governors and state public health officials asking for help and were trying to find resources for them."
"I've learned a lot," said Savin, who was working 13- or 14-hour days when initially deployed to the task force. "It's really stretched my comfort level. I don't have a master's degree in public health-- my background is economics and international development. So going in, I didn't know a lot of the science or terminology, but I had to learn about it quickly. It was challenging but field is very fascinating and I was eager to pick it all up."
With hurricane season beginning and higher than normal number of storms predicted this year, FEMA now needed to help the nation prepare for hurricanes and other disasters while continuing to support COVID-19 response. Savin shifted back to her regular office to resume work on the projects that had been paused while she was deployed.
"We needed to start focusing on how to help our state, tribal, and local partners prepare for hurricanes and flooding because we're still the nation's emergency manager," Savin said. "And we can be called to help support a major disaster or emergency crisis at any time, including earthquakes or a dam failure," both of which happened while FEMA was the lead agency coordinating COVID-19 response.
"COVID-19 further complicates disasters. For example, evacuations and sheltering plans now need to consider social distancing requirements, personal protective equipment, and other health and safety precautions. We're in the process now of taking a look at everything and making sure we have those COVID-19 considerations in our plans."
Meanwhile, Wes is working on the second piece of the COVID-19 crisis response—mitigating the global economic fallout. Wes works at IMF, where their work addressing the economic side of the COVID-19 crisis is focused primarily on developing countries who are being hit the hardest by the global shutdown and that may have the hardest time recovering.
The IMF has been working to support their member countries in three ways during the crisis: 1) quickly administering short-term emergency funds for countries to help their people cope with the global recession, 2) organizing longer-term loans to help countries recover when the pandemic becomes manageable, and 3) joining with central banks, international organizations and world leaders to call for debt forgiveness for our most vulnerable countries.
Wes Ven Johnson (MGPS class of 2012) was a Meadows Scholar while at LBJ and currently works at the Interntional Monetary Fund (IMF). 
"My role in all of this is two-fold," Wes explains. "Our economists weren't used to working remotely. They typically preferred long hours at the office rather than taking their work home with them, so the first part of my job was helping them use our suite of virtual work tools so they can be productive at home. I did this through trainings, webinars and one-on-one help sessions."
Wes describes the culture at the Fund as very face-to-face and one in which "you got a lot done in the hallways, dropping by people's office or meeting for coffee," so the transition to a virtual work environment was challenging for everyone. Wes and his team, the Change Management Unit (CMU), have helped this transition along by building capabilities in collaboration and virtual meeting tools and coaching on best practices for all aspects of remote teamwork.
The second aspect of his job is focused on making IMF's processes and practices more efficient in the long term. Before the COVID-19 crisis, Wes and the CMU were leading a culture change initiative to modernize "processes, technologies, and ways of working to be more agile and adaptive." However, the pandemic created new priorities where he had to "step up operationally so we could ensure our economists could continue meeting the needs of our member countries," Wes said.
This included learning about the details of global lending, terminology economists were using, and better understanding their process of working with governments and central banks. Amidst all this new information, Wes and the CMU were still able to use their skills to determine how the fund could continue to operate at this more efficient level.
"When you're pushed into a crisis, you react to just get your work done as quickly as possible," Wes said. "But now the question, if it usually takes us three months to get something done and we just did it in 21 days, why can't we always do it that quickly? We're working to lock in those accelerated practices. If we can cut out the superfluous steps during an emergency — why don't we make that our new normal?"
Wes Ven Johnson (MGPS class of 2012) and MBA student Sameer Sankaran on the Meadows Fellowship trip to Haiti in January 2011.  
While he was earning his MGPS degree, Wes travelled to Haiti for two weeks as part of an internship through the RGK Center's Meadows Fellowship program. Wes and a small group of students from LBJ worked with a nonprofit in Haiti who had a desire to help the community and had funding from a US church but didn't know how to proceed. "A combination of students from McCombs and LBJ went there as a team and evaluated some options of what they could do," Wes said. The team then presented several options of highest-impact projects and provided plans for implementation.
"Savin works all day, nights, and weekends at FEMA responding to the disease part of the COVID-19 response and I work with the economists on the economic part," Wes said. "So we get home at night and talk, we have the full picture of the depths of the impact the pandemic is having. We may not be directly helping people, but it feels good that we're somewhere in there—in some small way we're doing something to help the people of the world get through this."
NOTE: Savin Ven Johnson moved to the U.S. Department of Housing and Urban Development in June 2021, continuing her public service as a deputy director.