Published:
November 15, 2022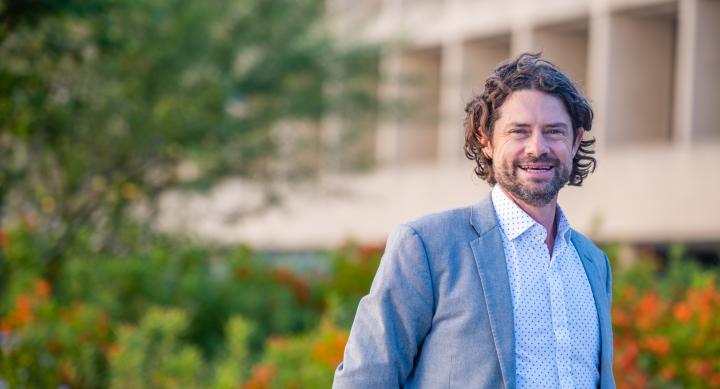 This story was originally published by the LBJ School of Public Affairs.
Providing solutions for Austin communities that might be at the highest risk for climate-related hazards will be the focus of a new NASA-funded study at The University of Texas at Austin. Using satellite-generated data alongside survey data and community voices, residents will join in creating a "climate atlas" for Austin. Areas at highest risk for climate injustice – a perspective that looks at climate change impacts and equity – are in central, southeast and north central Austin, areas that are disproportionately in Austin's eastern crescent, according to project lead Patrick Bixler, a climate resiliency scholar at the Texas LBJ School.
"There is growing momentum in both research and policy communities to take the lessons learned from environmental justice and apply them to climate change," said Bixler. "This allows for more targeted policies that can build the capacity to adapt and thrive. We see increasing political will to address climate resiliency, such as a new climate impacts portal developed as part of the Inflation Reduction Act."
Historic inequities in Austin's land use and community planning have created unequal exposure to pollutants, disparities in accessible green spaces, and disproportionate flood risks across Austin's Eastern Crescent for decades. In the 1990s, and residents and community organizations worked with scientists and researchers to address known environmental justice issues in East Austin to, for example, shut down fuel "tank farms" located in neighborhoods. Today, community organizations are connecting with university researchers to create safer neighborhoods in the face of climate change.  
"The most impacted communities are already adapting to climate change. We are learning from those who have already had to support themselves and each other through shocks and stressors like the Halloween Floods of 2013 and 2015, recent heat waves, and even Winter Storm Uri," said Carmen Llanes Pulido, a project investigator and executive director at Go! Austin Vamos! Austin (GAVA), a nonprofit focused on strengthening neighborhoods in Dove Springs, South Austin, Rundberg and St. Johns. "Resourcing their efforts and collecting ground-level data allows institutions to catch up so we can all be better prepared and shift our systems to adapt." 
The project collaboration between academic and non-academic partners aims to link policy research at the LBJ School with city-neighborhood climate information, work led by UT Professor and project co-lead Dev Niyogi from the Jackson School and Cockrell School of Engineering. Having City of Austin staff and community organization leaders as part of the research team creates a direct link with community organizing strategies and policy decisions related to infrastructure investments in the city. The $250,000, two-year grant is the first NASA program to focus on Equity and Justice. 
"Recent floods, snowstorms and heat waves have highlighted that extreme weather events hit low-income communities and communities of color the worst," said Marc Coudert, Climate Resilience and Adaptation Program Manager with the City of Austin's newly established Office of Resilience and a project investigator. "Staff need to work with vulnerable populations to cocreate new strategies to elevate community members and avoid unintended outcomes."
In addition to Bixler as lead principal investigator (PI) and the project team members named above, other members of the proposal team include: Paola Passalacqua (Engineering), JunfengJiao (Architecture), Sergio Castellenos (Engineering), Matt Bartos (Engineering), and Kevin Lanza (UT-Health). Most of these researchers began collaborating through UT's Planet Texas 2050 research grand challenge, which advances interdisciplinary resilience research and supports other projects involving GAVA and the City's Office of Resilience.