Published:
August 3, 2022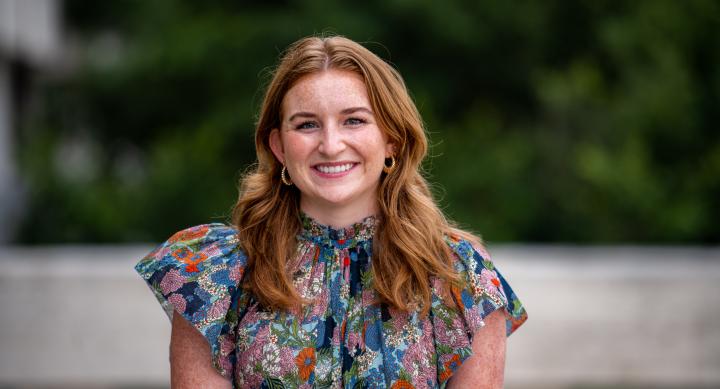 Incoming MPAff candidate Gabrielle Douthitt is the most recent recipient of the Kozmetsky Fellowship, named for Mrs. Ronya and Dr. George Kozmetsky, founders of the RGK Foundation and namesakes of the RGK Center. Kozmetsky Fellowships are competitive full-tuition scholarships awarded to students interested in careers in the nonprofit and philanthropic sector.
What spurred your interest in the nonprofit field and public policy in general? 
As an undergraduate student, I knew I wanted to pursue a career in which I could strive to make direct and innovative changes in the communities around me. For a long time, I thought that meant I needed to go to law school, but the more I told people around me what I wanted to do after college, the more I questioned whether law school would be the right path for me.  
Even before college, I worked with nonprofit organizations in my hometown that did everything from teach English and citizenship test material to Somali refugees to put together Christmas (gifts, meals, etc.) for families that couldn't afford a traditional celebration. All of these interests, goals, and ideas converged when I served as the student body treasurer at my undergraduate institution. Allocating the money budgeted for student organizations and using our student government platform to support events and initiatives (the Vietnamese Student Association's talent show, tabling for disability awareness, funding a documentary showing for the knitting club, and more) made me passionate about moving resources in equitable yet generous ways, even within this microcosm of greater society.  
After this role, I realized that I wanted to pursue a career like this one—serving my communities by working with those that are the experts on their cause to innovatively and efficiently find and employ resources. Working with the Girls Inc. of Tarrant County, both in the community as well as on the fundraising side, solidified this desire to work within the nonprofit field.
Policy school seemed like the right next step because I have a desire to learn more about the many causes that inspire nonprofit organizations as well as an interest in the relationship between the nonprofit sector and the government.  
What are some things you'd like to explore during your time at the LBJ School and within the RGK Center?  
I am so excited by the opportunity to make meaningful connections with peers and professors in the LBJ School. I hope to be a sponge, soaking up as much as possible from their experiences given that I have less professional experience than many of them.  
Academically, I am drawn to policy economics and the opportunity to expand on my previous academic experiences and see how so many of the theories I learned can come to life when examining the intersection of characteristics like race, gender, disability status, education level, and more. Furthermore, I want to take full advantage of classes like Dr. Bixler's Program Evaluation to advance the discrete skills that complement my passions and interests.  
Professionally, I hope to use the network that the RGK Center has to my full advantage. I know that there are jobs out there that I could not even imagine, and I am excited to begin meeting the people meeting unique community needs and using skillsets in creative ways. I am sure the next two years will be filled with many challenges, but I know I will graduate having been well prepared to enter my career in the nonprofit or policy field. 
What areas of nonprofit work are you interested in learning more about or possibly working in after graduation? 
Right now, I am thinking of working for a foundation or funding organization or within the realm of social impact investing. I'd love to learn more about corporate social responsibility and corporate giving and would be interested in working on a corporate/nonprofit collaboration aligned with my interests.  
My passion has always been for youth education and empowerment, so I hope that both my time at LBJ and my career satisfies a desire to learn and work in that space. Austin has so many cutting-edge organizations related to education, so I am excited to learn through experiencing all of the work already being done here in Austin.