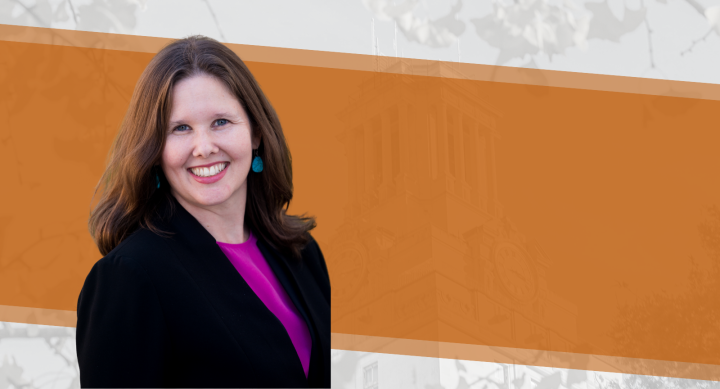 LBJ School of Public Affairs Dean JR DeShazo announced the appointment of Moira Porter (MPAff '06) to serve as the RGK Center's interim director beginning August 2023.  
"Under Moira's leadership, the RGK Center will continue to serve as an innovative collaborator and research partner to social impact leaders and initiatives throughout Texas and globally," said Dean DeShazo in an email to the LBJ School community on July 26.  
Moira will take on the interim director role following David Springer, who recently accepted a position as the dean of the College of Social Work at Florida State University.  
"I look forward to working with the Dean DeShazo to recruit the next director and ensure the RGK Center remains one of the best places for thinkers and doers to prepare for effective leadership and social impact in the nonprofit and philanthropic industry," said Moira.  
An alum of the LBJ School of Public Affairs, Moira has served as associate director of the RGK Center for 10 years and has been involved with the Center since 2003. She has managed a variety of education programs, including the Graduate Certificate in Nonprofit and Philanthropic Studies, doctoral fellowship programs, endowed Kozmetsky Fellowships, global civil society programs, and international student exchanges. Most recently, she helped incubate and launch the CONNECT Program to provide data consulting expertise to nonprofit and nongovernmental organizations. She has also supported RGK Center faculty members in securing more than $12 million in research funds. 
Moira helped start the Austin affiliate of the nonprofit fair trade store Ten Thousand Villages and served as board chair for Texas Folklife, a nonprofit organization dedicated to the culturally diverse folk traditions of the Lone Star State. 
"I'm excited to be serving the LBJ School and the RGK Center in this new capacity," said Moira. "It's an honor to carry forward the spirit of philanthropy and a caring society envisioned by our founders."