Published:
September 13, 2022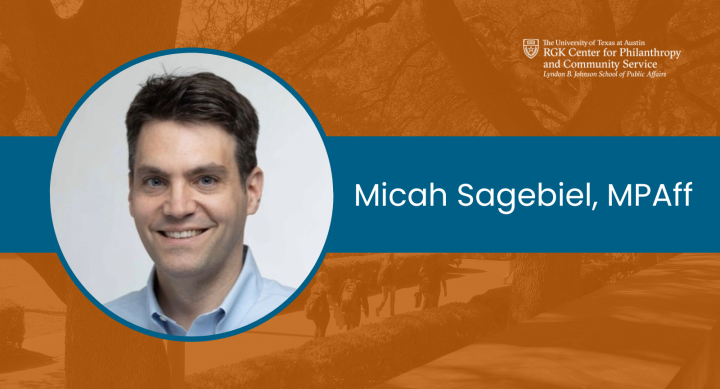 Micah Sagebiel, LBJ School MPAff '06 and graduate of Nonprofit Studies portfolio program, has built a career at the forefront of philanthropy.
In his latest role as Vice President of The Philanthropy Roundtable, Sagebiel spent the last year building a top caliber team that has launched two new services for individual donors and foundations – an investment due diligence service and a grantmaking service – that are now supporting dozens of philanthropies across the country.
Sagebiel credits his small-town Texas upbringing and family for instilling in him a passion for education, community service and pragmatism that led to his interest in the non-profit sector. He was raised in Seguin, about 60 miles south of Austin, where his father worked as a small-town criminal defense lawyer and farmer.
"Growing up in an old Texas small town, everyone knew your name – and you got to interact with people from all walks of life," said Sagebiel. "Through my Dad, I got an early view of the challenges of poverty, how opportunity is unevenly distributed, and how certain values help individuals and families advance in life."
During his undergraduate studies at Colgate University, Sagebiel found himself drawn to areas of work in which he could best use his talents. At one point he considered focusing on international work before realizing he could have a more immediate impact on people's lives back home in Texas. Via Teach for America, he worked as a public-school teacher assigned to Ann Richards Middle School along the Texas-Mexico border in La Joya, Texas. In his second-year teaching, former Governor Richards invited the school's seventh graders up to Austin to meet her outside on the lawn of the Texas capitol.
"Governor Richards was so kind and captivating," said Sagebiel. "It was part of the reason – probably in addition to a homing mechanism being a seventh generation Texan wanting to go The University of Texas at Austin – that I decided to attend LBJ," Sagebiel said.
Sagebiel says he chose to attend the LBJ School because he wanted to understand how to improve the lives of Texans at scale. At LBJ, he enrolled in the Nonprofit Studies portfolio program and worked as a graduate research assistant for Senator Benjamin Sasse, who was an assistant professor with the RGK Center.
"The RGK Center was really my entry point into understanding how the philanthropic sector was positioned to strengthen civil society, fund innovations, and take smart risks to solve some of the more complicated issues facing the country," said Sagebiel. "One thing I have come to appreciate is that our country's non-profit and philanthropic sector is unique – and worthy of protecting."
In his first day at LBJ, while taking Dr. Pat Wong's summer quantitative skills intensive, Sagebiel met his wife, Sarah Gomez, a native of Brownsville.
"I owe LBJ, specifically summer math camp, for helping me cross paths with Sarah," said Sagebiel. "This has led to happy family life with three kids that we're raising here in Austin."
Sagebiel's current employer, The Philanthropy Roundtable, is a national non-profit based in Washington D.C. It has a mission to foster excellence in philanthropy, protect philanthropic freedom, and help donors advance liberty and opportunity for all people. 
"Every day my team and I get to speak with the nation's highest impact philanthropists and best non-profit leaders," said Sagebiel. "It could not be a bigger thrill to meet– and help support – exceptional people working to strengthen communities, provide pathways to opportunity for all people, and promote our country's founding principles."
The new investment due diligence service, Sagebiel explains, helps philanthropists with limited staff capacity make strategic grant investments. His team acts like "outsourced" program officers working on behalf of the donor partners to identify and vet high-potential organizations.
The Roundtable's new grantmaking initiative manages pooled charitable funds and makes grants on behalf of donors. Sagebiel built the organization's new capacity from the ground-up and has successfully launched its initial funds that have quickly invested millions of dollars in charitable organizations.
Sagebiel joined the Roundtable in 2021 after a decade at the Michael & Susan Dell Foundation. He says he was interested in the Roundtable because it is an organization that "still believes in equality of opportunity, excellence, and the power of the free enterprise system."
In his prior role at the Dell Foundation, Sagebiel directed work in K-12 education and executed the foundation's first U.S. impact investments in early-stage, for-profit companies. The portfolio he directed impacted hundreds of thousands of students and families in in cities across the U.S.
Both outside and through work, Sagebiel has served on a number of boards. His board service has ranged from the local – including his children's school board and church endowment fund –  to several national education non-profits and for-profit venture companies. While at the Dell, he served on an advisory board for a leading Silicon Valley-based education technology venture fund alongside top venture capital investors.
Sagebiel encourages RGK students to consider their unique knowledge, experiences and skills that help round out a board of director's skillset at expertise.
"After the Nonprofit Studies program, you have a base of skills – such as financial and data analytic skills – that can be of value to many organizations," he said.
Sagebiel says he is ever grateful to the RGK Center for fostering his academic introduction to the philanthropic and non-profit sectors.
"I think we take for granted the rights we have to launch non-profit organizations – and freely fund the ones align that with our core values and passion areas," said Sagebiel. "We are fortunate to have a thriving charitable sector – and we should work to keep it."