Published:
March 13, 2023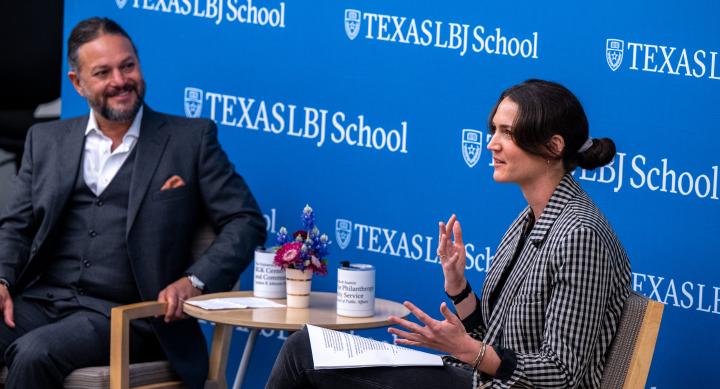 On Monday, March 6, UT faculty and staff, community members, and students from across campus joined for a fireside chat with Emily Haynes, senior reporter at The Chronicle of Philanthropy, about making careers in the social sector more equitable and rewarding.
In her role at The Chronicle, Emily covers nonprofit fundraising. Previously, she worked at WAMU 88.5, Washington's NPR station, and served as assistant managing editor at the Center for American Progress before that. Emily said that her work as a copyeditor at a think tank opened her eyes to the hairiness behind nonprofit work and confirmed her passion for journalism.
Dr. David Springer, Center director, opened the fireside chat by asking Emily about her current work, specifically regarding her reporting on workplace issues, burnout, economic trends, and giving trends within nonprofit fundraising. Themes that Emily mentioned include the high likelihood that nonprofit workers will find deep personal, moral, and professional significance in their work, coupled with the challenge that the work feels never-ending and the mission stems from awareness of a great need and the mission often being the workers' lived experience.
Emily then shared her own experience with burnout and taking much needed rest. She said that after she took two weeks off, she was pitching more stories than she ever had before. Like many people do, she mentioned ignoring the signs of being burnt out—being bitter toward people who enjoy their work, not creative, constantly tired. She then connected her personal experience to the burnout that many folks in the sector experience.
When asked what leaders can do to mitigate the contextual nature of nonprofit work, Emily mentioned consistent check-ins with employees that cover more topics than just work performance. Instead, employers can ask employees where they find meaning or what stresses them about their job. Overall, these check-ins can be a space for workers to truly ask for help or articulate the problems at work.
When discussing the amplified impact of burnout on people of color and women, Emily stressed the need for a culture change within fundraising. To stay accountable to DEI goals that are set, especially regarding hiring practices, nonprofits can look to hire educators or salespeople to mitigate the lack of pipeline in fundraising. Emily also mentioned the need to mentor, train, and create space for folks to succeed in the workplace.
Emily remarked on the requirements for a long, sustainable career in the nonprofit and philanthropic space. Knowing to watch for the signs of burnout and stress, including poor sleep, loss of appetite, stomach pain, and tense muscles, allows people to address the bodily experience of stress and burnout early. Furthermore, practices like normalizing rest through organization-wide paid time off and celebrating incremental wins shows workers their value—both as employees and as people.
Lastly, the fireside chat closed with discussion on changes in workplace values, trends like quiet quitting, differences between remote and in-person work, and a shift in the role and view of boards.
Read Emily Haynes' related articles from The Chronicle of Philanthropy below:
How Leaders Can Help Fundraisers Avoid Burnout
How Fundraisers Can Get off the Road to Exhaustion and Burnout
See the full event photo album on Flickr.