Published:
March 23, 2023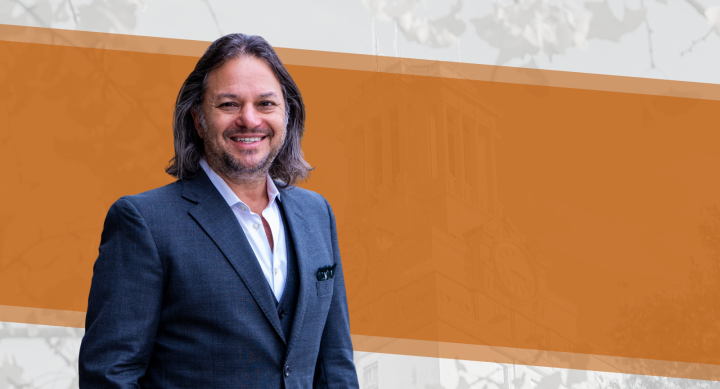 Center director Dr. David Springer was recognized as a Distinguished Signature Course Faculty member by the School of Undergraduate Studies earlier this week in recognition of his freshman seminar course, "Designing a Happy and Meaningful Life."  
The course, which Dr. Springer has been teaching since 2005, encourages incoming freshman to explore together how individuals can design a happy and meaningful existence. Taught through an interdisciplinary lens, students critically reflect on and apply readings from disciplines such as philosophy, religion, positive psychology, neuroscience, design thinking, and the humanities. Springer even started curating a Spotify playlist for his seminar course, including songs about happiness and those that inspire happiness.  
Springer leads his seminar students to explore key tropes through art, poetry, storytelling, photography, music, and a podcast he created specifically for the course to examine a range of topics including happiness, meaning, compassion, intimacy, love, grace, gratitude, grit, and purpose. Some of the podcast guests include Siobhan McCusker, museum educator at the Blanton Museum of Arts, local photographer Greg Davis, and author and happiness expert Dr. Howard Cutler.  
"I strive to foster a learning environment where students are invited to develop their own philosophy for leading and living, planting seeds for their current and future selves," Dr. Springer outlines in his teaching philosophy for the course. "My classroom becomes an incubator of personal and intellectual growth opportunities for all, including myself." 
Springer was one of the first professors at UT Austin to create and teach a Signature Course. He plans to teach his freshman seminar again in the fall, along with a graduate-level course at the LBJ School titled "The Architecture of Leadership: Designing Health Communities."
Read more about Dr. Springer's insights into mindfulness, servant leadership, and self-care in this LBJ School profile.