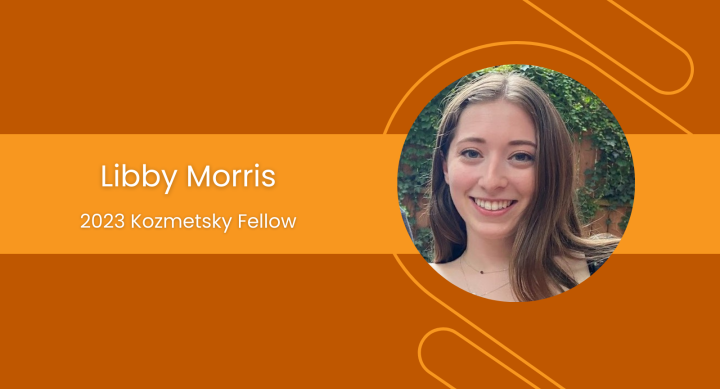 The RGK Center is excited to welcome our newest Kozmetsky Fellow, Libby Morris, to campus this fall. Kozmetsky Fellowships are competitive full-tuition scholarships awarded to students interested in careers in the nonprofit and philanthropic sector. Libby will be earning her Master's in Public Affairs at the LBJ School of Public Affairs and most recently worked with Mathematica and NowPow in the Chicago area. 
Libby earned her undergraduate degree in Communications and French Studies at Wake Forest University. Her communications honors thesis examined "the relationship between social media and nonprofit and/or social advocacy causes, focusing on whether or not it is a benefit or a hindrance in these humanitarian aid efforts (see bottom of the page for more information about her thesis project). This summer, we asked Libby a few questions about her experience and interests that led her to the LBJ School.
What drew you to studying policy and learning more about nonprofits? How did your background in communication lead you here?

I truly believe that the nonprofit and philanthropic space has the power to influence change that affects individuals and communities on a large scale, and I'm drawn to studying the intersection of policy and this space so that I can learn how to maximize impact that can make real change happen. My communication major at Wake Forest helped me learn how to meet people where they are, discovering each person, community, or group may have a different perspective on what "change" or "progress" means to them. To me, this lesson is key in making sustainable, person-driven change that lasts. 
What is something you're looking forward to learning more about through the LBJ School and the RGK Center?
I'm really excited to learn how I can turn my passions into real action through the LBJ School and the RGK Center. I like to think of this program as a toolkit that will develop both my quantitative and qualitative skill sets to thrive in this space. I'm eager to pursue the nonprofit studies portfolio program through RGK while at the LBJ School, as well as to take other elective classes on other passions of mine, such as gender equity and reproductive justice. I can't wait to get started! 
More about Libby's honors thesis: 
The goal of this honors project was to assess whether or not social media has made an overall positive impact on fundraising in the nonprofit industry. A comprehensive look on the various types of social media used for nonprofit fundraising begins the project, with outlets such as Facebook, YouTube, and Twitter as front-runners. I investigated various social cause phenomena on social media, such as the ALS Ice Bucket Challenge via Facebook, #GivingTuesday across multiple social media platforms, and the viral nature of the Kony 2012 video from Invisible Children via YouTube. Overall, the observed benefits of organizations implementing social media, such as increased awareness and increased social pressure to give because others are giving, have allowed them to raise overall charitable giving (Blackbaud, 2018). On the other hand, I evaluated several drawbacks to incorporating social media into fundraising strategies, such as the creation of "slacktivism," the idea that having a plethora of opportunities to which to donate replaces actual desire to cultivate social progress with the concept of self-gratification. In the end, despite some drawbacks, it became clear that social media has led to increased fundraising for nonprofits, and is therefore an overall benefit for these organizations.