Theme:  Researching the roles funders play in advancing digital/data rights, justice, equity, and inclusion in the U.S. and beyond 
As the COVID-19 pandemic made clear, being online has become increasingly essential to everyday life worldwide. While the digital world seems here to stay, to what extent do we get to choose to be part of it, or not? What are the risks or harms that accompany being offline or online, whether by choice, or circumstance? What are the protections or remedies to address these risks or harms? Globally, this is the work of digital/data rights, justice, equity, and inclusion.
Join the RGK Center in co-creating a timely, inclusive, and robust exchange of ideas and perspectives to advance knowledge about digital/data rights, justice, equity, and inclusion worldwide with the following questions in mind:
How have funders (governmental, corporate, and philanthropic) helped to advance this work? 

What challenges have grantseekers and funders faced? What are lessons learned, success stories, and best practices? 

What should funders focus on next to support work that helps keep people safe in a digital society? 
Symposium goals from a "commoning" perspective: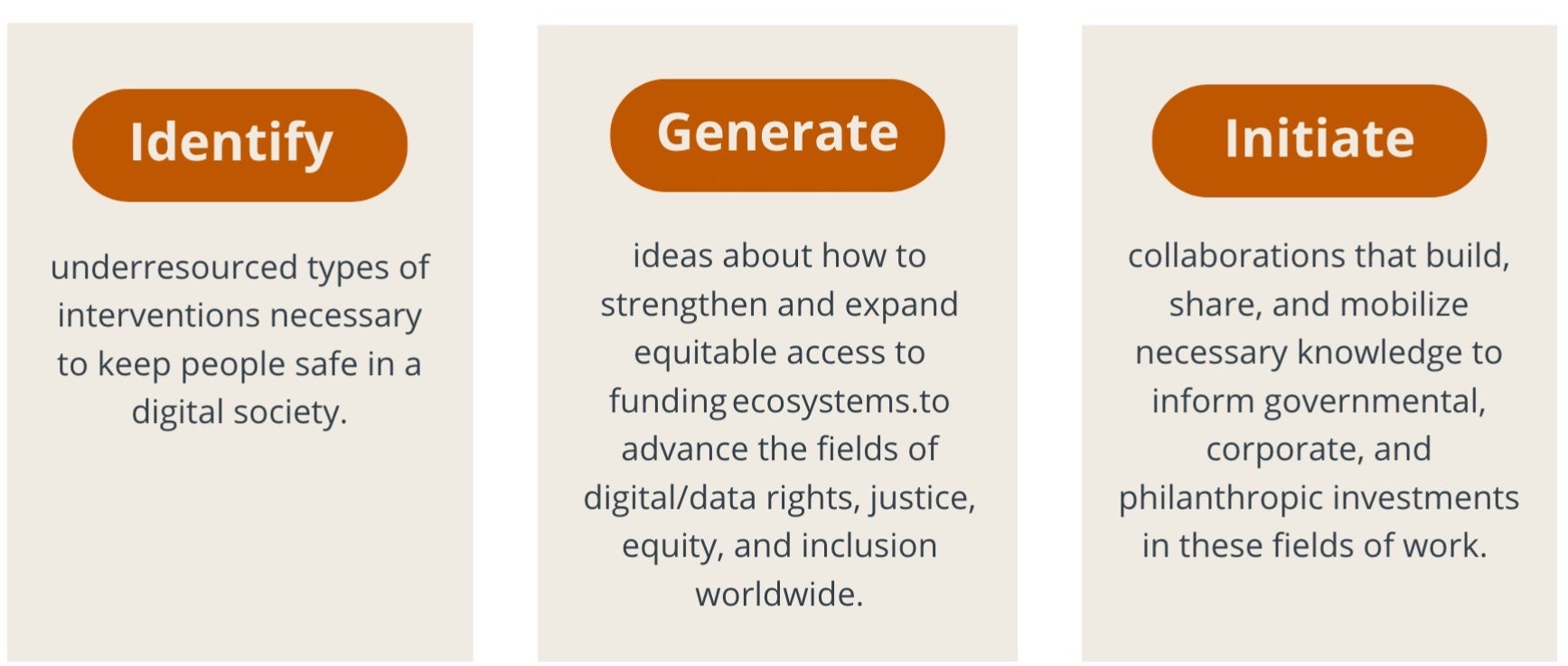 To learn more, please download symposium details and share your interest form. 
When:
Week of October 16, 2023
(responses to Call will determine dates, times, and program)
Where:
Austin, Texas (in-person participation) or online
Please share your ideas, insights, and participation preferences by August 25, 2023 at 5 p.m CDT (UTC/GMT -5 hours).
Your responses will help us design the symposium program.
About the RGK Center and the Tech and Society Initiative
The RGK Center was founded in January 2000 with a $5 million matching grant from the RGK Foundation. The 'RGK' in our name refers to Mrs. Ronya and Dr. George Kozmetsky, founders of the RGK Foundation, whose philanthropic legacy continues through the Kozmetsky Family Foundation and the Reissa Foundation. Focusing on the heart and science of philanthropy, we view the term 'philanthropy' not as a particular type of institution or sector, but more broadly as grounded in its etymology: a "love of humankind, especially as evinced in deeds of practical beneficence and work for the good of others."
The Center serves as a convenor for connecting a wide variety of scholarly, professional/practitioner, and civic conversations designed to build, share, and mobilize knowledge about the role of philanthropy in advancing social and policy change. 
Begun in Fall 2021, the Tech & Society Initiative's research, teaching, and civic engagement activities, projects, and events work at the intersections of several interdisciplinary fields of study: Third Sector Studies, Critical Data Studies, Critical and Interpretive Policy Studies, Public Interest Technology Studies, and Media and Communication Studies. Led by Prof Becky Lentz, the purpose of the Initiative is to explore the role philanthropy plays in addressing societal issues related to digital media and technology.
The Initiative brings to the table RGK Center research expertise combined with deep field experience in three priority areas:  
Tech and Society

Energy and Environment

Health and Well-Being 
Graduate research assistants, Tech & Society fellows, and consultants to-date: Caroline Hahn, David Cruz, Gabby Jane Douthitt, Jamie Kim, Jenny John, Joycelyn Ovalle, and Sarah Evers
Courses (part of UT's Graduate Portfolio Program in Nonprofit Studies):
· How Grantmaking Advances Digital Inclusion in Texas (see Report)
· Digital equity, justice, opportunity, and inclusion
· Social Justice Philanthropy
Sign up for our monthly newsletters to get updates about our students, alumni, and faculty, and upcoming events.